Medigap plans (also known as Medicare supplement plans) are designed to help seniors who want high quality healthcare and are on Medicare, cover the gap between what hospitals and doctors charge for their services and what Medicare will pay. Health insurance is constantly changing, which can make finding the right plan for you very strenuous and time consuming.
Supplementing your Original Medicare coverage (Part A & Part B) with a Medigap plan will help you limit your out-of-pocket expenses and allow you to see any doctor you want that accepts Medicare. Any doctor that accepts Original Medicare will also accept your Medigap plan.
Medicare Supplement Insurance is made up of 10 different standardized insurance plans – Plans A, B, C, D, F, G, K, L, M, and N. Each plan offers certain benefits – some more comprehensive than others. For example, Plan A offers coverage of only the basic benefits of Medicare Supplement Insurance, while Plan F is the most comprehensive and covers all 9 benefits at 100%. See the chart below for an overview of the plan benefits for 2014: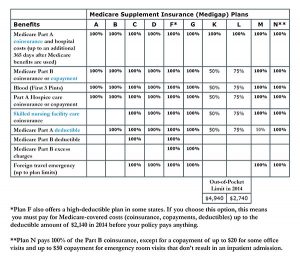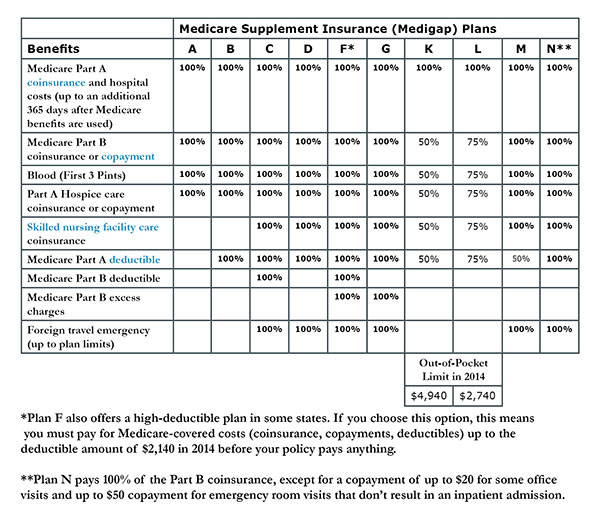 Plan F also offers a high-deductible version of the plan – it is the only plan that offers this feature. Under a high-deductible plan F (also referred to as Hi-F), the insured must pay for Medicare-covered costs up to the year's deductible amount – $2,140 in 2014 – before the supplement plan pays anything. The benefit of the high-deductible plan F is that it offers the insured a much lower monthly premium.
You can view more details about the benefits covered by each Medigap Plan using the links below:
Click here to download the Medicare guidebook "Choosing a Medigap Policy: A Guide to Health Insurance for People with Medicare"
If you have any questions about Virginia Medigap plans or would like a free quote comparison, please feel free to give us a call at 1-800-571-2980. You can also reach us by e-mail at Info@terminsurancebrokers.com 24 hours a day.