Medigap Plan F covers all 9 benefits at 100%!  Plan F is the most popular Medigap plan as it provides the most comprehensive coverage – this plan will pay the remaining portion of whatever Medicare doesn't pay for medical and hospital charges as long as the charge is approved by Medicare.
Ideally, this plan will benefit people who want to have the peace of mind in knowing that all of their Medicare approved charges will be covered.
Medigap Plan F covered benefits:
Medicare Part A coinsurance plus coverage for 365 additional days after Medicare benefits are used up
Medicare Part B coinsurance or copayment
First 3 pints of blood
Part A hospice care coinsurance or copayment
Part A hospitalization deductible
Part B medical deductible
Part B excess charges
Skilled nursing facility co-insurance
Foreign travel emergency (up to plan limits)
Plan F also offers a high-deductible version of the plan – it is the only plan that offers this feature.  Under a high-deductible plan F, the insured must pay for Medicare-covered costs up to the year's deductible amount – $2,140 in 2014 – before the supplement plan pays anything.  The benefit of the high-deductible plan F is that it offers the insured a much lower monthly premium.
See the chart below for a side-by-side comparison of each of the Medicare supplement plans: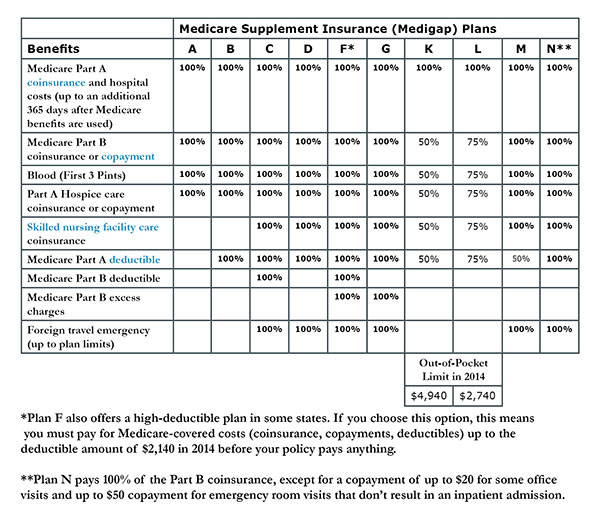 For questions about Virginia Medigap plans or if you would like a free quote comparison, please give us a call at 1-800-571-2980 between the hours of 9 AM and 9 PM eastern time.  You can also reach us by e-mail at Info@terminsurancebrokers.com 24 hours a day.